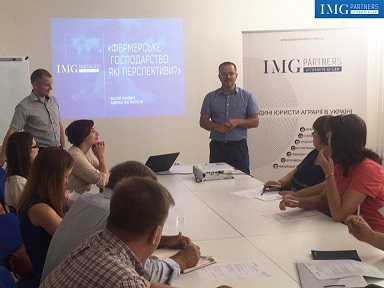 IMG Partners held a workshop "Agribusiness Today and Tomorrow" for representatives of agribusiness in Dnipro on June 22, 2017 with support of the Meet Professionals event company!
The leading specialists of the IMG Partners attorneys at law shared its experience with the farmers of the Dnipropetrovsk region. They told about successfully tried and tested methods of agribusiness protection, acquired over 6 years of own agricultural project in Khmelnitsky region. Nowadays this agrarian project of IMG Partners cultivates more than 700 hectares of Ukrainian land.
The Workshop was provided as a discussion, where each participant had an opportunity to express his opinion, to ask questions, to share experiences. The hottest debates burned down around the discussion of very important question: How to build the right strategy of the land bank protection from raiders when the market of agricultural land would be opened?